God is changing lives through SEND North America! Thank you for being a part of the SEND family, through your prayers and support in this special ministry, as we invest into the next generation of leaders. This has been one of our most exciting years yet! SEND is continuing to grow spiritually and in numbers.
How is SEND Growing?
We have learned the majority of young adults who apply and join SEND comes through word of mouth connection—because of a relationship with someone who shared SEND with them. We want to thank you for spreading the message of SEND and encourage you to continue!
A Recent SEND Grad Says,
"I found out about SEND through my mom's friend. She messaged me on Facebook and included a link to the SEND website. After checking it out, I decided to apply right away. I'm so glad I did because God has been able to really work in my life in the past year and a half. He has shown me who I am in Him and what He is calling me to do. I would not be the same person I am today if I never heard about SEND."
Our Goal
Our goal is to have 12 young adults join SEND in September 2017! To reach this goal we need 120+ young adult contacts, because we have found that one out of ten young adults who hear about SEND commits and applies.
You are Invited
I want to personally invite you to become a SEND Pitcher. This will take only five minutes of your time, but could change a young adult's life forever.
What does it take?
    Do you have a heart for reaching young adults for Jesus?
Be on the lookout for young adults who are faithful, available, and teachable.
  Take five minutes to share SEND with them.
Become a SEND Pitcher:
As a Pitcher, you will receive new resources throughout the year to help you share SEND with young adults.
For more details and to join us today:
800.626.8515
Don't want to snail mail your young adult's contact info to us? No problem! Submit this form.
PO Box 145
Corunna, IN USA 46730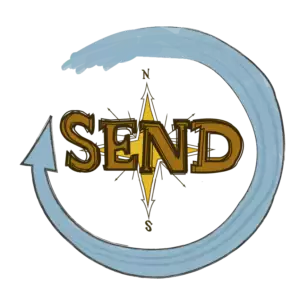 A ministry initiative of Church Doctor Ministries