SEND North America exists to empower, train, and equip young adults in their faith in Jesus Christ. Our objectives are to:
Deepen the faith of young adults – strengthen their relationship with God – through teachings and discipleship from seasoned Christian pastors, leaders, etc.
Train young adults to be missionaries, in any social context, through hands-on mission experiences in a variety of ministries.
Develop young adults' relationships with other young adults, their mentors, leader, and church family.
Help young adults discover God's call in their life, through exploring their spiritual gifts and exposing them to different ministries and ways God is moving.
Start a young adult movement in the United States and beyond, beginning with small teams of young adults who are trained and equipped in their faith, in order to bring a resurgence of faith throughout the "millennial" generation and impact the Kingdom.
Only Jesus Christ builds the church.
People are saved by grace alone.
Christians need to be educated, motivated, and encouraged to fulfill the Great Commission.
The primary purpose of the church is to fulfill the Great Commission.
God wants the lost to be found and brought into the church.
Lost people matter to God.
God gives each person different spiritual gifts to be used for the building up of the body.
Grace-centered mission requires indigenous, culture-sensitive strategies and methods.
God uses people to reach people with the Gospel, which is the power of salvation.
There are already enough Christians in the world to win the world for Christ.
Servanthood is our attitude.
God deserves our very best.
We are accountable to biblical truth.
Our work ethic is based on a strong commitment to be most productive for God's work of world evangelization.
We remain flexible to the changing needs of our young adults, yet focused on our purpose (I Cor. 9:22).
We remain open to change and innovation.
We conduct ourselves in a manner above reproach.
We deal with conflict and communicate with each other according to the direction of Matthew 18.
Our prayer is that a spiritual revival takes place among the millennial generation in the United States and beyond. We pray that God will continue to use SEND North America to change the lives of young adults, one person at a time, leading to this spiritual revival.
With Kendallville, Indiana being the first SEND North America training site, our vision is to partner with additional churches that have successfully completed Healthy Churches Thrive! This 24-month spiritual adventure, developed by Church Doctor Ministries, renews the spiritual health of the local church and prepares them to be a host site for SEND North America.
We are committed to, and exist in partnership with, local churches; we believe that the church is God's instrument for changing the world. Because SEND is designed to multiply, our prayer is to increase, not only the number of young adults who are engaged in their faith, but the number of SEND teams and training sites around North America. The vibrant partnership between each SEND team and its local church provides a renewed and exciting opportunity for mission thinking and ministry. This in turn, leads to making disciples for Jesus Christ, and expansion of the Kingdom of God.
PO Box 145
1230 US Highway Six
Corunna, IN USA 46730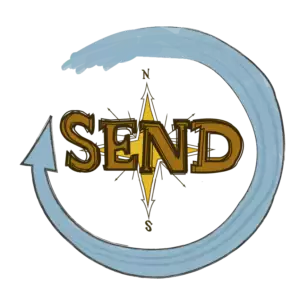 A ministry initiative of Church Doctor Ministries