Frequently Asked Questions
Click on any of the questions below to see the answers.
Does SEND stand for something?
SEND is an acronym for Servants Equipping New Disciples
What is SEND Young Adults
10-month training experience for young adults that equips in the areas of spiritual formation, discipleship, mentoring, and mission training.
What is the time commitment?
SEND training is in session from September through June each year.
Who can participate in SEND training?
SEND is for young adults who are 18-29 years old and are faithful, available for this residential 10-month experience, and strongly desiring to learn God's plan for their life.
How many people can be on a SEND team at a time?
Each SEND team has no more than 20 young adults.
What will I get out of SEND?
You will grow in your relationship with God and learn to live a New Testament lifestyle. You will be equipped with effective ways to reach people who are far from God, including your own friends and social network. You will learn how to multiply these teachings within the context of the local church to help the church and other Christians become more effective at reaching people for Christ. SEND strives to help you discover God's plan for your life and grow in discipleship and mission.
How will I be trained throughout SEND?
SEND utilizes both classroom teaching and hands-on experience to give you rich and diverse Christian training.   You will spend over 145 classroom hours, learning from 50+ teachers, and spend equal amounts of time in the field, in the context of domestic and international mission excursions to a hands-on internship.
What is the cost for SEND training?
Each SEND young adult raises their SEND expenses, $5,000 USD, from 10 partners who support them with prayer, support, and financial contributions. During the application process, you will receive a Support-Raising Kit that offers guidance and training on raising your financial support.(International SEND young adults raise the amount of $10,000 USD.)
Where will I live during SEND training?
SEND training is based in Kendallville, Indiana (20 minutes north of Fort Wayne). Throughout training, you will live with the other SEND yo0ung men or women on your team (divided by gender), sharing rent.
Will I have a job during SEND?
Yes, you will hold a part-time job in a secular setting to put your SEND training to practice throughout your experience and to subsidize your living expenses.
How can a local church benefit from SEND?
SEND graduates are intensively trained in many of the same concepts and curriculum taught in world missions schools today. The difference? SEND graduates are trained debt-free, and in just 10 months can be ready to join your church staff team to lead and organize ministry in your church.
Can my church get a SEND graduate or sponsor one of our own young adults to do SEND and come back to our church?
Absolutely! Churches interested in sponsoring one of their own young adults to participate in SEND should contact Jon by email or call 1.800.626.8515 to schedule a phone call to explore this further.
Is SEND Young Adults connected to a church or other ministry?
SEND North America is an initiative of Church Doctor Ministries, a global non-profit ministry that has served Christians, local churches, denominations, associations, and church networks with dynamic consulting and coaching services for more than 40 years.  With Kendallville, Indiana being the initial SEND Young Adult training site, additional SEND sites are being developed in churches that have successfully completed Healthy Churches Thrive!, a process developed by Church Doctor  ministries.  Healthy  Churches Thrive! is a 24-month spiritual adventure that, by God's grace, renews the spiritual health of the local church and prepares them to be the host site for a SEND Young Adult team. 
Is SEND training just for young adults?
SEND is not only a training opportunity for young adults, but is also a valuable resource to our community and many churches, mission agencies, and para-church ministries. SEND Young Adults steps alongside our brothers and sisters serving in ministry, and seeks to serve and resource them in a variety of ways. Areas in which SEND North America serves the community and other Christian ministries include:
Leadership and staffing. Many SEND graduates go on to serve in a leadership position in a church, non-profit, school, business, or parachurch ministry.
Service and mission work.

 

SEND teams aid the mission of various churches and organizations through 40+ mission excursions, serving the "least of these" in the greater Fort Wayne, Indiana area, the Midwest (United States), and Central America.
Where can SEND take me?
Graduates of SEND have gone on to become entrepreneurs, church planters, ministry leaders, counselors, missionaries, and teachers. Whether in full-time ministry or a secular work environment, SEND equips you to make a meaningful impact for Jesus.
PO Box 145
1230 US Highway Six
Corunna, IN USA 46730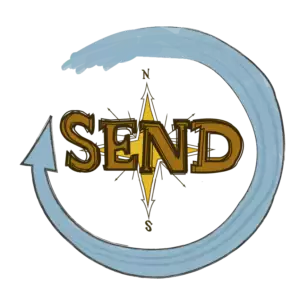 A ministry initiative of Church Doctor Ministries